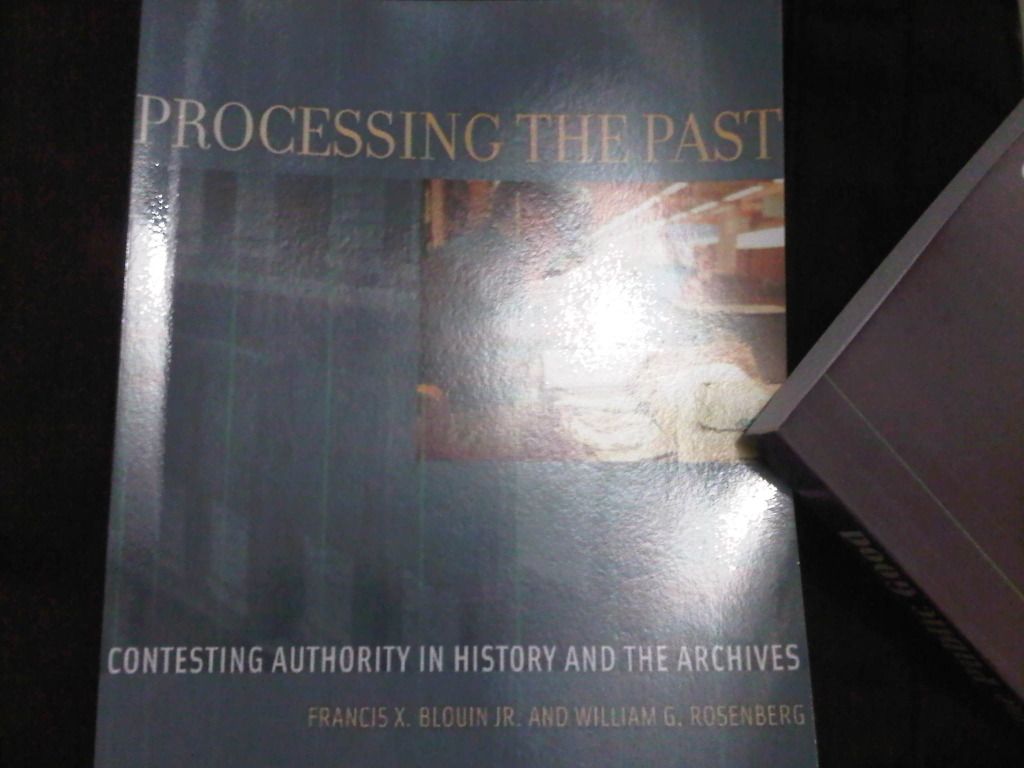 Berbicara tentang arsip, khususnya arsip statis
(archives)
tidak bisa dipisahkan dengan masa lalu. Arsip sebagai produk budaya akan menjadi jembatan penghubung antara masa lalu, masa kini dan masa yang akan datang.
Arsip sebagai sumber informasi otentik perlu dikelola dengan baik sedemikian rupa sehingga dapat digunakan untuk mengungkap apa yang telah terjadi di masa lalu (khususnya arsip yang bernilai guna informasional), dan sebagai bukti akuntabilitas publik (khususnya arsip yang bernilai guna kebuktian). Kalimat terakhir di atas bila diringkas akan menjadi tiga
core concepts
dalam kearsipan, yaitu ARSIP itu sendiri, ARSIPARIS sebagai pengelolanya, dan SEJARAWAN sebagai
interpreter
nya. Secara historis, perkembangan kearsipan memang tidak bisa lepas dari dua profesi ini. Ada baiknya untuk mengetahui pergumulan antara peran arsiparis dan sejarawan dalam menggeluti satu objek yang sama, yakni Arsip, kita perlu membaca buku yang satu ini: PROCESSING THE PAST, Contesting Authority in History and the Archives. Francis X. Blouin Jr. and William G. Rosenberg. Oxford University Press. 2011.
Buku ini terdiri atas dua bab. Bab Pertama berisi tentang munculnya kesenjangan arsip (archival devide) yang terdiri atas lima Subbab. Sementara Bab Kedua berisi tentang pengolahan masa lalu, yang terdiri atas enam Subbab. Inti pada Bagian Pertama mengkaji hubungan antara arsip dan pendekatan terhadap sejarah, serta bagaimana arsiparis dan sejarawan biasanya mengolah masa lalu. Pada Bab Pertama ini menitikberatkan pada issues and nature otoritas dalam sejarah dan arsip serta menganalisis dalam konteks historis awal terjadinya "kesenjangan arsip" -- suatu istilah yang belum pernah ada sebelumnya dalam terminologi kearsipan. Bab Kedua memberikan pendekatan baru terhadap pemahaman historis dan kaitannya dengan arsip dan implikasinya terhadap praktik-praktik kearsipan yang terus berubah.
Buku ini memang terkesan buku yang serius, apalagi ditulis oleh dua orang yang latar belakangnya sebagai arsiparis dan sejarawan. Mereka berusaha membelokkan "haluan arsip" dengan menempatkan arsip sebagai subjek, bukan lagi sebagai tempat – tempat kajian serta mengkaji hubungan permasalahan yang dihadapai dalam bidang sejarah dan kearsipan. Contoh pemicu permasalahan kedua bidang ini adalah munculnya pemikiran postmodern serta tantangan perkembangan Teknologi Informasi (TI) yang begitu pesat. Tantangan pemikiran postmodern, misalnya, yang mengkritisi keotentikan arsip dan ciri ketidakberpihakan suatu arsip
(inviolate)
yang selama bertahun - tahun menjadi jargon
oleh para arsiparis dan sejarawan. Begitu pula dengan tantangan TI yang memaksa arsiparis memikir ulang konsep – konsep otentisitas, integritas, dan reliabilitas arsip elektronik yang sangat berbeda dengan pendekatan kearsipan tradisional. Untuk lebih jelasnya, silakan baca buku ini.